BRT Line 3
DTCA is currently implementing Bus Rapid Transit (BRT) under Clean Air and Sustainable Environment (CASE) Project.The Bus Rapid Transit (BRT) Feasibility Study has been completed, and the ongoing Detailed Design Study is providing key inputs for the preparation of Dhaka BRT project.Capital investment cost is estimated around USD 207.7 million, including initial investment cost USD 175m and rolling stock (USD 208m inclusive).

Features:
Length : 22.4 kilometer (At Grade + Elevated-5.295 km)
Route : Airport-Mohakhali-Ramna-Gulistan-Keraniganj
Number of Stations : 16 nos.
Depot : 2 nos.
Flyover : 1 no
Passenger Capacity : 18,000/ hour (both directions)
Commercial Speed : 23 km/hour (average)
Travel Time : 54 minutes (Uttara to Jhilmil)
Headway : 180 sec.
Bus Type : Articulated (18m Long)
Bus Capacity : 140
Project Progress:
Completion of field survey and utility report.
Consultant has submitted all the draft final report by December, 2015.

Report on Operational Plan, Environmental Management Plan, Traffic Management Plan Electrical & communication works plan and ITS
Report on Station Precinct and Pedestrian and NMT Access Report
Detailed engineering design report including architectural plans and drawings
Report on: Preliminary design and features of the bus fleet, functional requirements of the fare collection and ticketing system
Bidding documents for fleet procurement, construction, supply of traffic signaling system and Traffic control center
Implementation Plan Reports and The inauguration of BRT Line-3 and protocols

Four workshop consultation has been conducted on the following subjects:
Inception report on February 16, 2014
Operational Plan on November 20, 2014
NMT and Ancillary plan on May 25, 2015
Resettlement Strategies and Management Plan on December 7, 2015
The animation preparation work over the BRT Line – 3is going on and will be done within March, 2016.
3D rendering of proposed BRT Line 3 at-grade stations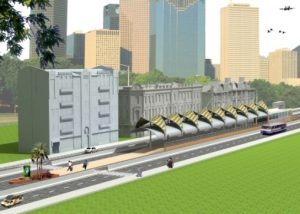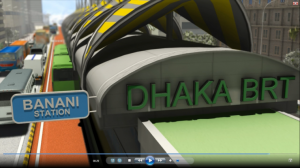 BRT Line 3 Construction
Length : 4 kilometer
Route : Airport-Mohakhali-Ramna-Gulistan-Keraniganj
Estimated Cost : BDT 20,000 million
Feasibility Study: Completed June 2016 and Detail Design Ongoing
BRT Line 3 will operate from Gazipur in the north to Kodomtoli Circle in the south, covering a total distance of approximately 42 km. DTCA is responsible for southern section of BRT i.e. from Airport to Keraniganj section (22.4 kilometer). As an adjunct to the development of BRT, numerous additional improvements are also being made such as bus network reform; new feeder bus services; urban landscape improvements; improved traffic signaling and control; and non- motorized transport (NMT) improvements to name a few.
Building a BRT system in Dhaka is an enormous undertaking, but one that will redefine how the city operates. BRT is a key strategy to address (at ground level), the chronic traffic congestion of the corridor, the quality of public transport and the management of traffic. It will provide strong connection between International Airport, Mohakhali Bus Terminal and Jhilimili New Town. It will also provide interchange with MRT Line-1